Experience The Power of the Network
Learn why the industry's largest card issuing banks and over 2,100 ecommerce merchants depend on Ethoca's global network of confirmed fraud and customer dispute data to prevent both credit card fraud and debit card fraud and stop chargebacks.
We are happy to produce a Fraud Analysis Report or Chargeback Assessment for your business and show the amount of savings you can recognize by partnering with Ethoca to prevent fraud and chargebacks. Simply fill out the form below and we'll be in touch!
Connect with an Expert Request
Judges and Customers agree! Ethoca is the industry award-winning service of choice to fight fraud and chargebacks!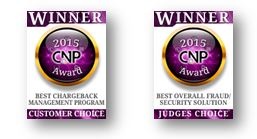 Ethoca is the proud recipient of two 2015 CNP awards – Best Overall Fraud/Security Solution and Best Chargeback Management Program.